Travel CO2 Emissions API
Get Travel CO2 data directly from the API and use it in your own application.
Check out the API documentation and sign up for API Access to get started with data integrations.
TOP API FEATURES
Smart routing using the Discovery feature

Simple endpoints for transport and accommodation

Endpoint for comparing travel

Supports complex trips with multiple stops and mixed transport types

Comprehensive transport type, vehicle and fuel type support

Get localized accommodation emissions at any step of the trip

Transparent data and methodology
USE CASES
Integrate emissions into travel agency apps & booking sites

Carbon receipts for travel related purchases

Custom CO2 travel impact visualizations

Your own climate travel data idea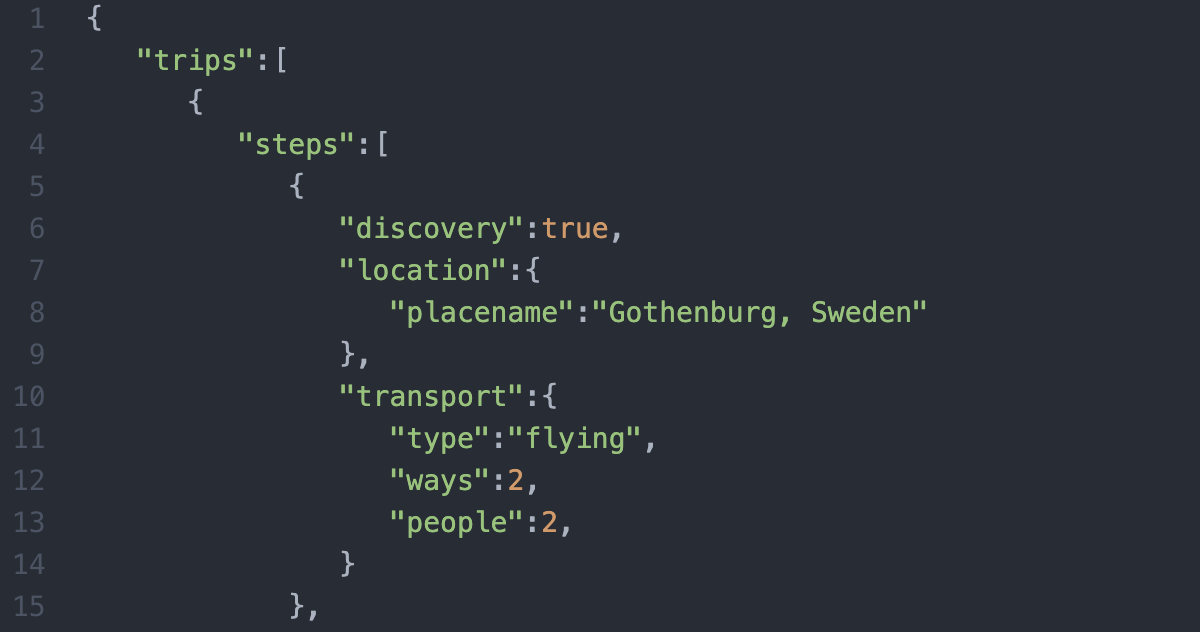 API Access & Search & Visualizations
€149
(excl. VAT)
per month
30 000 monthly API hits

10 000 monthly API steps using DISCOVERY

2 000 monthly form searches

25 trips for sharing and embedding
Sign up for CO2 API Access
Smart trip discovery
Find real world travel routes and their carbon emissions using the Discovery feature to find travel routes, distances, durations, transport types, location data and airports from simple placenames or geographical points.
All you need is the name of the starting point and the destination. Pick one or more travel types and the API will suggest real world trips and calculate their carbon impact.
Flexible transport data
The API supports flying, public transport, bicycling, walking and driving. Many different vehicle types and fuels are available for carbon calculation.
Calculate CO2 for short simple trips or for complex multi-step trips using different travel types, vehicles and fuels.
Localized hotel CO2
Calculate accommodation emissions for any steps along the trip based on type, country, number of nights and number of people.
Hotel and hostel accommodations are adjusted to local average emissions on a per country level.
How do you want to use travel climate data?
Do you have questions about our data or want to know more about how to use our services? Do you need a new or customized widget or help integrating carbon emission data into your application?
Contact us for more information on specialized visualizations, customizations and integrations.